If you are using a dedicated server from Hetzner you will need to take a few additional steps if you wish to add single IP addresses to your Virtkick panel. This guide will walk you through the additional steps you will need to take.
1. Gather information
First, you will need to log in to your Hetzner control panel. From there, select your dedicated server and navigate to the IP addresses for your server. Once there you should see something similar to this:

Hover over the IP in question to see additional information about this IP, note the address, gateway and separate MAC then move on to the next step.
2. Add the IP to your panel
With all the information you need to configure the IP pool head over to the IP pools manager on your Virtkick panel.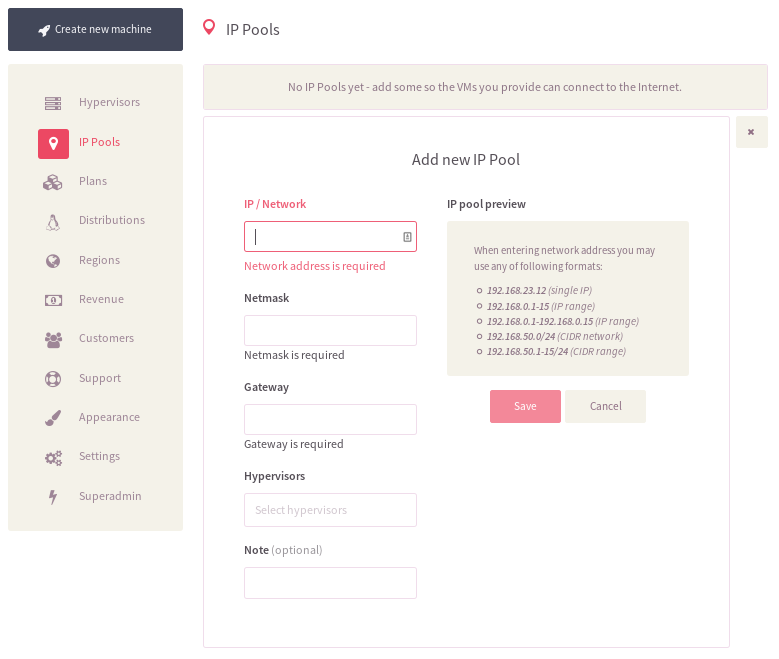 In the IP/Network field enter the IP you want to add followed by the CIDR /32. This assures traffic will always be routed and this is how Hetzner expects single IPs to be configured.
With our example, we would enter the following into the IP/Network field:
144.76.7.216/32

In the gateway field you will need to enter the IP address you obtained from the previous step. For example, in the gateway shown in the previous step was 144.76.7.193 so that is what you would want to enter in the gateway field.
Lastly select the hypervisor this range should be assigned to and click save.
3. Submit IP to MAC address mapping
Now that you have created the IP pool you will need to submit an IP to MAC address mapping for your new IP address. You can do this by visiting https://yourpanel.myvirtkick.com/admin/ipmac - be sure to use your custom domain instead of yourpanel.myvirtkick.com if you have one.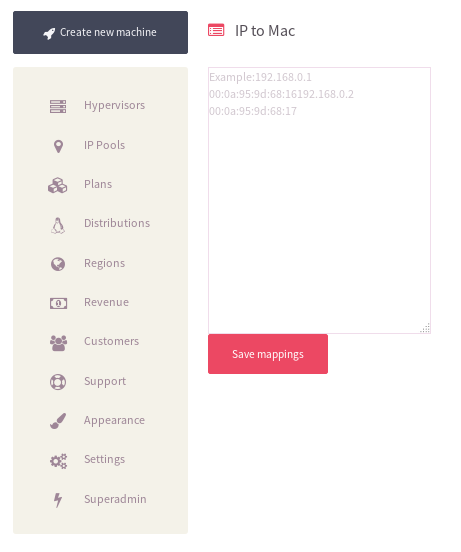 You will need to enter the IP address followed by a space and then the MAC address (the "separate MAC" shown in the pop up) you found in the first step. For example:
144.76.7.216 00:50:56:00:0A:03

Be sure to put a space between your IP address and your MAC address.
After this has been done you are all set!
Have any problems? Let us know - we are happy to help!
comments powered by