Virtsimple is a virtualization panel you can resell to your customers. It's a simple way to expand your virtualization offer without any extra cost.
As a reseller, you'll earn 25% of the panel sales value monthly - for example, if you've sold 100$ worth of panel subscription, we'll charge you $75 on the billing day.
The benefits of Virtsimple reselling
You get 25% of the panel revenue at no extra cost
Your customers get more out of your offer
Broaden your audience: reach programmers, startups, software development shops, creative agencies and more
Hands-free: we handle the panel maintenance and security
Sounds good? Become a reseller straight away:
Or read on about the process:
Reseller dashboard: where the magic happens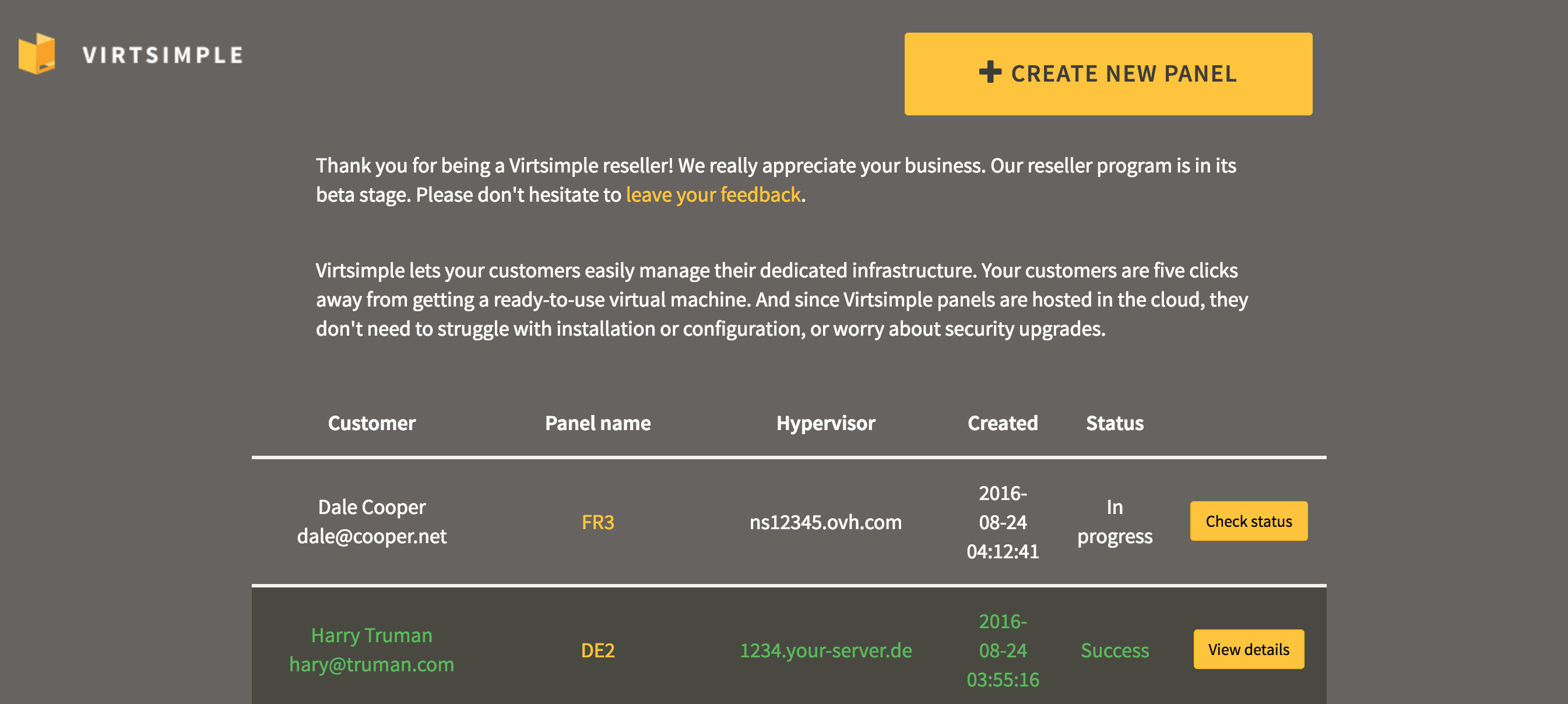 Reseller dashboard is the place where you can see all your customers' panels at a glance. You can see the provisioning status, check their details, create new panels and cancel the panel if the customer resigns. Let's try creating a new panel.
Create a new panel: panel details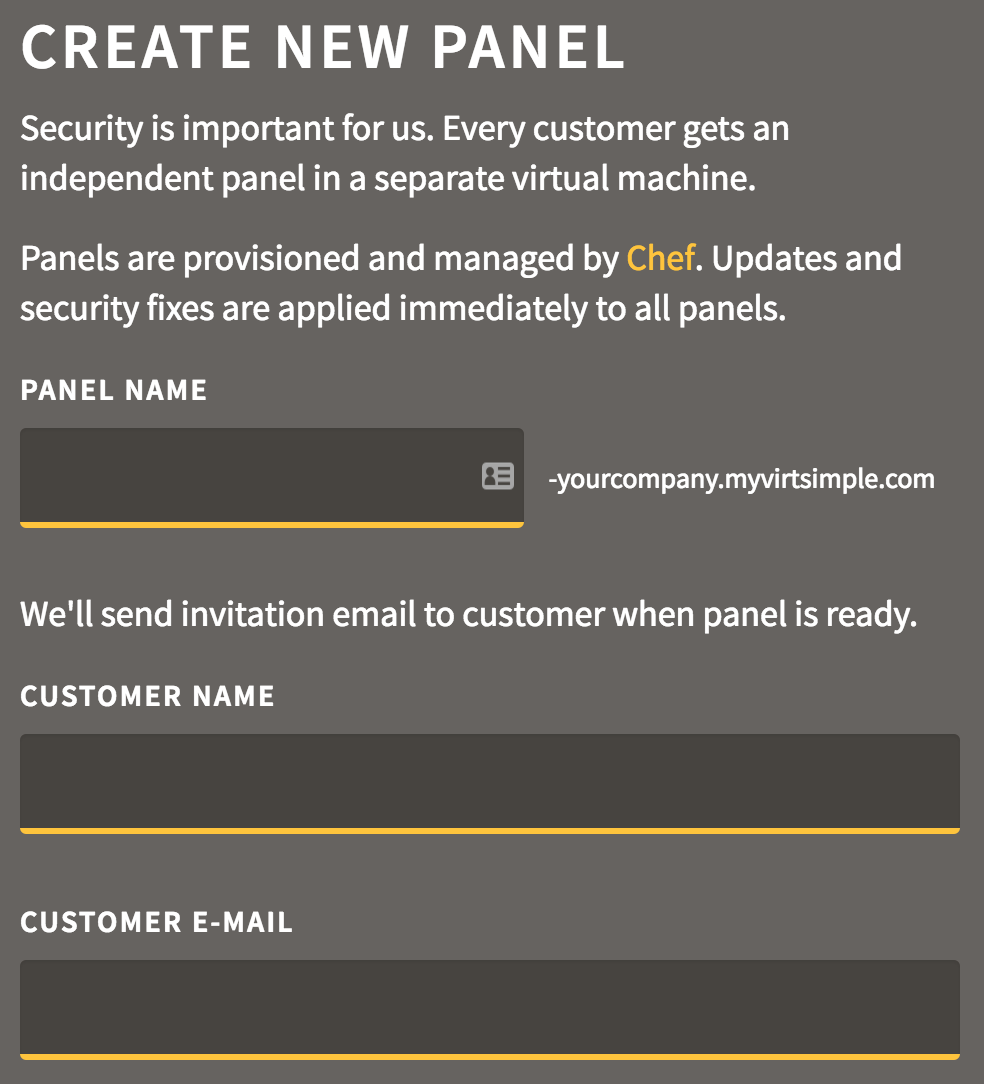 Provide the panel name, e.g. CustomerVPS-panel.yourcompany.com and the customer data, so we can invite them once the panel is spawned. We can also provide custom URLs for your customers' panels.
And that's it - that's all you need to spawn a panel for your customer! You can as well go a step further and connect a hypervisor:
Create a new panel: (optional) Connect Hypervisor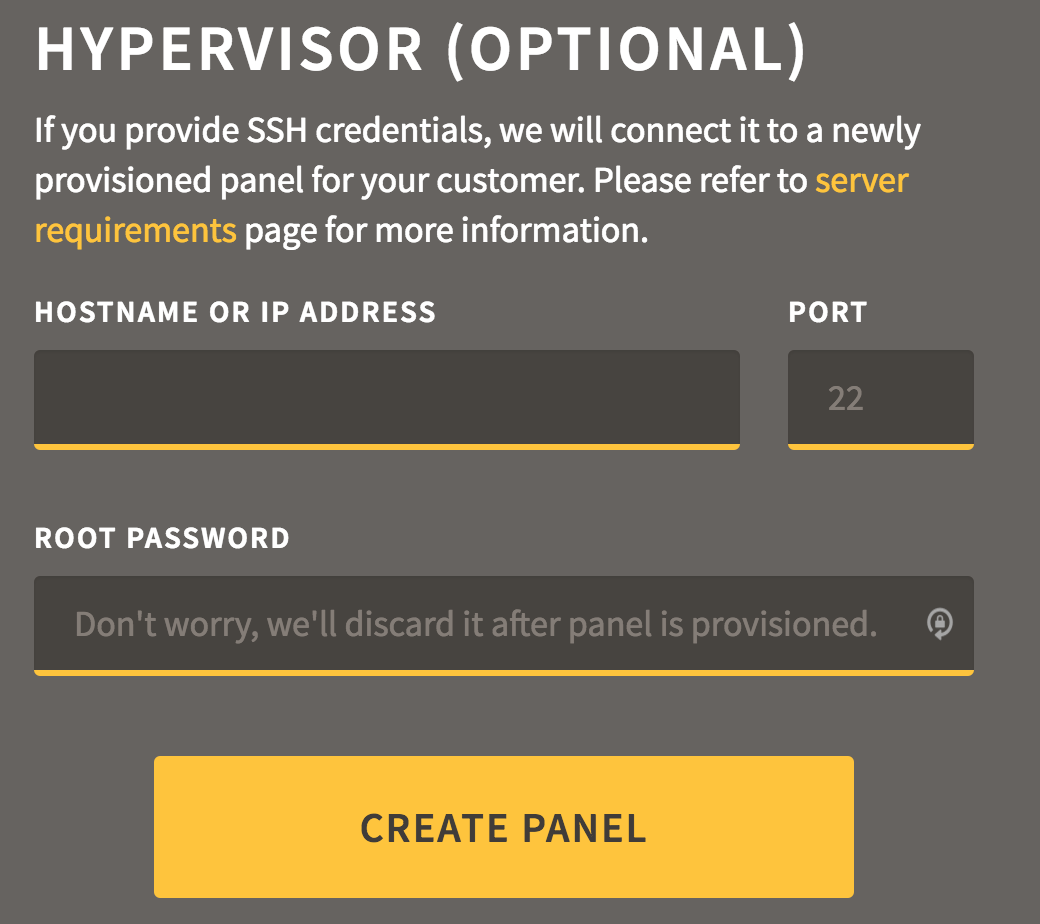 We will connect your hypervisor to your customer's panel - just provide the IP & root password - we use the root password to establish an initial SSH connection to the server. Afterwards we setup a key-based authentication and the panel forgets the root password. You can change it or, better yet, disable the password authentication altogether.
Connecting a hypervisor is an optional step, but can save you time in the long run and amaze your customers with a HV-connected, ready to use panel!
To sum up: we deploy and maintain the Virtsimple panels and can even connect hypervisors for you. In exchange, you keep 25% of the revenue you've made from the panel sales every month. All's well? Become a reseller straight away:
Questions? Drop us an email at team@virtkick.com.
comments powered by